December 2017 – Product Update
We have been hard at work adding features to the Acuity hardware that yield great benefits in operation. One example is our robust industrial strength wireless communication network is now passing even more data around the secure network. We will be happy to demonstrate these new features to you.
Read more…
May 2017 – Acuity Dashboard 2.0
The all new Acuity Dashboard is now available. The dashboard has been re-designed and many new features added including pump performance update statistics, SMS alerts to on-duty operators and unlimited curves per chart.
September 2016 – Watex 2016 Exhibition
Thermancy is exhibiting at the Watex 2016 exhibition in Tehran, Iran. We look forward to meeting you and discussing your pump monitoring requirements. Read more at Watex 2016 and British Water web sites.
July 2016 – Product Updates
We are pleased to announce updates to the Acuity and Agile pump monitors.
The Acuity has more features and benefits including 20% more battery life. Read more…
The Agile has more features and benefits including sampling of data at higher rates. Read more…
May 2016 – Utility Week Live 2016 Exhibition
Thermancy exhibited at the Utility Week Live 2016 exhibition at the NEC, United Kingdom on the 17 and 18 May 2016. Thank you to everyone who came to see us, making the exhibition a great success for us.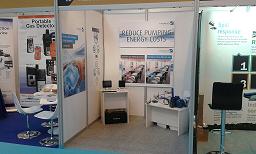 June 2016 – Brochures Updated
Click here to view or download the full THERMANCY product catalogue.
August 2015 – Introducing the Partner Net Program
Our Partner Net program was set up to give pump owners and pump consultants advanced pump monitoring tools so that they can help pump operators to reduce their pumping energy costs.
To join the program, please
contact
us.
February 2015 – Wireless Thermodynamic Pump Monitor
Thermancy releases the world's first Wireless Thermodynamic Pump Monitor to support pump operators and managers in reducing their pumping energy costs and meeting their energy saving targets. Read more…
November 2014 – Thermodynamic Pump Monitor
Thermancy adds new hardware and software features to its Acuity thermodynamic pump monitor. Read more…